Forte Products Is The Exclusive Manufacturer For The Big Green Egg Products Listed Below.


THE EGGMATE

Easy to attach, fold down tables used on BGE small, medium, large and XL. Attaches to SAB (spring assisted band) and the XL band. Black powder coated HRPO steel with premium cedar slats provide that extra preparation area needed for grilling. Utensil hooks are also provided to hang your utensils on the lower edges of the tables for convenient access
---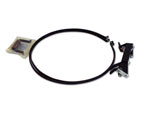 SAB (spring assisted band)

For use on BGE models small, medium and large. Our toggle linkage hinge design with spring assist takes the effort out of opening and closing the lid.


---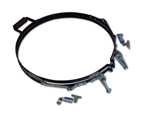 XL-BAND

Designed specifically for the XL egg. This (patent pending) four axis linkage design uses the lids own weight to hold the lid safely in the open position. Assist springs are utilized to ease the opening and closing cycles.
---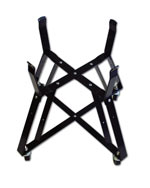 THE EGGNEST

The answer to getting your BGE at the right cooking height. Each model (small-medium-large-XL) securely holds the Egg in place. Four heavy duty castor style wheels allow you to easily move your grill. Black powder coated HRPO steel. (Assembly required)
---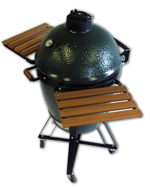 THE WHOLE PACKAGE

THE BIG GREEN EGG, nicely equipped!!!!!!!!!
---